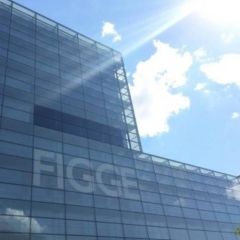 News
When We Left Earth: The NASA Missions
July 24, 2012
---
Landmark Series Detailing 50 Years of NASA Every Sunday at the Figge
Davenport, IOWA (July 2012) Relive mankind's greatest adventure—the development of a rocket allowing them to leave the earth and explore space—through episodes of the Discovery Channel's landmark special series When We Left Earth: The NASA Missionsevery Saturday and Sunday at 2:30pm between July 21 and October 7 at the Figge Art Museum. When We Left Earth: The NASA Missions, the dramatic story of NASA's pioneering, awe-inspiring missions, commemorates the first 50 years of space exploration. This series is being offered in conjunction with NASA | Art: 50 Years of Exploration, on view at the Figge through October 7, 2012.
Narrated by award-winning actor Gary Sinise, When We Left Earth is the incredible story of humankind's greatest adventure, as it happened, told by the people who were there. From the early quest of the Mercury program's goal of putting a man in space to the historic moon landings, through the Soyuz link-up and the first un-tethered space walk by Bruce McCandless, this series documents how the space age came of age.
The vivid HD series features vintage rushes and all of the key onboards, as filmed by the astronauts themselves. The sequences are captured by cameras onboard the spaceships, enabling the series to tell the stories at a depth never seen before.
"The story of NASA is really America's story. People coming together with grit, audaciousness and determination to go—quite literally—where no man had gone before," said John Ford, President and General Manager, Discovery Channel. When We Left Earthis a story of great human courage, innovation and groundbreaking science and technology. We are proud to have played a part in preserving NASA's film archives so that future generations can celebrate this glorious past and dream and build an even brighter future."
Each of the six episodes will air four times in the John Deere Auditorium at the Figge: episode 1, Ordinary Supermen will be shown July 21, July 22, September 1 and September 2; episode 2, Friends and Rivals will be shown July 28, July 29, September 8 and September 9; episode 3, Landing the Eagle will be shown August 4, August 5, September 15 and September 16; episode 4, The Explorers will be shown August 11, August 12, September 22 and September 23; episode 5, The Shuttle will be shown August 18, August 19, September 29 and September 30; and episode 6, Home in Space will be shown August 25, August 26, October 6 and October 7.
When We Left Earth is produced for Discovery Channel by Dangerous Films. Richard Dale is executive producer for Dangerous Films. Bill Howard is the executive producer for Discovery Channel.
About Discovery Communications
Discovery Communications is the world's number-one nonfiction media company reaching more than 1.5 billion cumulative subscribers in over 170 countries. Discovery empowers people to explore their world and satisfy their curiosity through 100-plus worldwide networks, led by Discovery Channel, TLC, Animal Planet, Science Channel, Investigation Discovery and HD Theater, as well as leading consumer and educational products and services, and a diversified portfolio of digital media services including HowStuffWorks.com. Discovery Communications is owned by Discovery Holding Company (NASDAQ: DISCA, DISCB), Advance/Newhouse Communications and John S. Hendricks, Discovery's founder and chairman. For more information, please visit www.discoverycommunications.com.