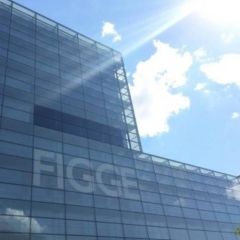 PRESS RELEASE
Where the Wild Things Are
May 7, 2018
---
The Figge Art Museum's latest exhibition opens on Saturday, May 12. Where the Wild Things Are will be on view in the second-floor Katz Gallery through August 12.

Published in 1963, Maurice Sendak's Where the Wild Things Are is a classic children's book. The tale of Max's journey into another world has been lovingly recited by countless parents to their children. Known for a variety of characters and picture books, Sendak initially illustrated other authors' books before starting to write his own in the 1950s.

Sponsored by The John Deere Foundation, Blackhawk Bank & Trust, KK Runge Associates, Eye Surgeons Associates and Andy and Debi Butler with media support from WQPT-TV and The Quad-City Times, this exhibition celebrates Maurice Sendak's career. Included are original illustrations as well as drawings made for friends and fans featuring characters from Where the Wild Things Are, Little Bear and In the Night Kitchen among other books. Theatrical production designs created by Sendak, animation cels, and sketches in a variety of mediums will also be included.

Sendak created a visual language that has captivated generations of children. Although he sometimes crafted in lighthearted plots, his picture books often have menacing elements: fanged monsters, baby stealing goblins and young protagonists placed in dangerous situations. Sendak gave children the opportunity to engage with ethical dilemmas, to feel afraid as well as joyful, and to take part in imaginative play. As he stated, "Children do live in fantasy and reality; they move back and forth very easily in a way we no longer remember how to do."

Exhibition sponsor and Figge donor Debi Butler remembers reading Where the Wild Things Are to her now 32-year old son, Ryan. "This book was a favorite bedtime story. Each time we went to read it, his face would light up," she recalls, "the book had such a positive message filled with symbolism that helped shape how he thinks about people and animals to this day."

During his long career Sendak illustrated over one hundred children's books, which continue to thrill and fascinate children all over the world. The fifty works of art in the exhibition will be accompanied by quotes from fellow illustrators, friends, and others, sharing their thoughts on Sendak and the ways in which he inspired them. As Stephen Colbert stated, "His art gave us a fantastical but un-romanticized reminder of what childhood truly felt like."

The Figge is partnering with the Bettendorf, Davenport, Moline and Rock Island Public Libraries for special exhibition related programming and exhibition tours. In addition, the Figge will be doing outreach education programs about Maurice Sendak in each library. Check your local library for scheduled dates.

Library cardholders will receive FREE admission to the Figge for one specific week during the exhibition. Davenport Public Library cardholders will receive free admission to the Figge June 3-10, Moline Public Library cardholders will receive free June 10-17, Rock Island Public Library cardholders will receive free admission June 18-25 and Bettendorf Public Library cardholders will receive free admission June 26-July 2. Cardholders just need to show their library card in the Museum Store to receive free admission on the selected dates.

The exhibition is organized by Opar, Inc. with special thanks to the lenders of the exhibition and to the AFA Gallery in New York City for their support. Admission will be free on Saturday and Sunday, May 12 and 13 in celebration of the Beaux Arts Fair this weekend.

Companion Programming:
Opening Reception & Panel Discussion
Thursday, May 17
4 p.m. Happy Hour Menu & Cash Bar
5:30 p.m. Opening Reception
6:30 p.m. Curator Talk
Figge Assistant Curator Vanessa Sage will introduce Where the Wild Things Are and talk about the curatorial choices made for this installation.

Collection and Exhibition Tours
1:30 p.m. Saturdays: July 7, 14, 21, August 4, 11
1:30 p.m. Sundays: July 8, 15, 22, August 5, 12

Free Family Day
Saturday, August 4
Free Admission all day
Scheduled Activities 10 a.m.–1 p.m.

About the Figge Art Museum:
The Figge Art Museum is located on the Mississippi River in downtown Davenport at 225 West Second Street. Hours are from 10 a.m. to 5 p.m., Tuesday through Saturday and Sundays noon to 5 p.m. Thursdays the museum is open until 9 p.m. Admission to the museum and tour is $7 for adults, $6 for seniors and students with ID and $4 children ages 4-12. Admission is free to Figge members and institutional members, and free to all on Thursday evenings from 5 p.m. to 9 p.m. with a Happy Hour Menu starting at 4 p.m. each Thursday. The Figge Café is open 11 a.m.-2 p.m. Tuesday-Friday. To contact the museum, please call 563.326.7804, or visit www.figgeartmuseum.org.