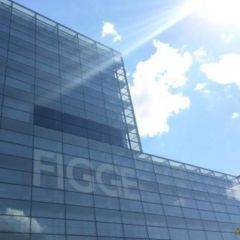 PRESS
Yellow Brick Road Leads to Figge Art Museum for The Wonderful World of Oz
June 3, 2016
---
Commemorating 160th Anniversaries of Oz Creators Baum and Denslow

Davenport, Iowa (June 3, 2016) – To mark the 160th birthday year of L. Frank Baum, author of The Wonderful Wizard of Oz, and its illustrator, W. W. Denslow, the Figge Art Museum will present The Wonderful World of Oz: Selections from the Willard Carroll / Tom Wilhite Collection, beginning June 12 in the Katz Gallery.

Drawn from the largest collection of materials relating to The Wizard of Oz stories and characters, the exhibition will feature 110 objects, from the finest known copy of the first edition/first state "green imprint" of Baum and Denslow's 1900 book, to original sketches, costumes and props from MGM's beloved 1939 movie starring Judy Garland, to Oz spinoffs such as puppets, toys and posters from numerous other productions like "Wicked" and "The Wiz."

Among highlights from MGM's "The Wizard of Oz" are the most complete surviving costume (worn by the green Lollipop Guild Munchkin), Dorothy's screen-test pinafore and blouse, and the hourglass that the Wicked Witch of the West uses to show Dorothy "how much longer you have to be alive."

Oz is a quintessential Midwestern creation: Baum and Denslow collaborated on the first book while living in Chicago, where it was originally published. The Wizard came from Omaha. And of course Dorothy and Toto were memorably transported by twister from their Kansas farm to "somewhere over the rainbow."

Described by the Library of Congress as "America's greatest and best-loved home-grown fairy tale," Baum's novel and the classic film it inspired have entertained generations everywhere – their iconic characters, phrases and music continually resonating throughout worldwide popular culture.

When the 1939 film premiered at Davenport's Capitol Theater in August of that year the Davenport Daily News raved that "Here is something too fantastic to be described, good witches and bad, talking trees, live scarecrows, tin woodmen, cowardly lions, magic slippers. Truly a fairy tale suddenly brought out of the imagination and given substance, it is, in the parlance of the streets, a 'whopper.'"

Carroll's fascination with Oz began as a young boy after seeing the 1939 movie on television, spurring a collecting bug that is still with him. The Figge exhibition was organized by Farnsworth Art Museum in Rockland, Maine, and comes to the Quad Cities through the generosity of the collectors whose long-term plan is to establish National Oz Museum to house their holdings of more than 100,000 items.

The Wonderful World of Oz will be on view June 12–September 25 and is sponsored by Genesis and US Bank and organized by the Farnsworth Art Museum, Rockland, Maine. Thanks to the generous support of the Bechtel Trust and John Deere Classic, museum admission will be free to all from June 12-September 25.

Companion Programming:
Collector Talk: Willard Carroll
4 p.m. Sunday, June 12
Join Emmy Award-winning producer Willard Carroll as he explores Oz's indelible impact on every aspect of popular culture and media since the first book was published in 1900.

Exhibition Open House
5-7 p.m. Thursday, June 16
Travel over the rainbow as you explore the exhibition and its accompanying hands-on gallery activities. Costumes welcome!

Family Day
Saturday, July 16
Scheduled Activities 10 a.m.-1 p.m.
Families and fans alike will dive into The Wonderful World of Oz and Picturing the Prairie: Tall Grass QC with special activities throughout the museum.

Film Talk: There's No Place Like Home: The Wizard of Oz as a Tale of Migration
7 p.m. Thursday, July 21
Join Paula Amad, Chair of Cinematic Arts at the University of Iowa, who will examine the immense influence of The Wizard of Oz has had on more than 75 years of American fimmaking.

Film Talk: John Fricke
7 p.m. Thursday, August 11
Enjoy a trip back in time with noted Oz and Judy Garland historian, author and Emmy Award-winning producer John Fricke to learn the facts, fictions and secrets behind the making of MGM's The Wizard of Oz.

Screening of "The Wizard of Oz" (1939)
2 p.m. and 7 p.m. Saturday, August 13
Adler Theatre, 136 E. 3rd Street, Davenport, IA
$3 per person or $10 family pack (max. 5 people)
563.326.8555 (no advanced sales)
John Fricke will host a rare 35 mm film presentation of this classic motion picture. The print for this special screening is one of a very few manufactured in 1998 when Technicolor briefly resumed a photo-chemical printing method that replicated the "three-strip" dye-transfer color process used when the picture was made in 1939.

Exhibition Tours
1:30 p.m. Saturday, June 25
1:30 p.m. Sunday, June 26 and July 17
Join a trained Figge docent for an informal and informative tour of the exhibition.

About the Figge Art Museum:
The Figge Art Museum is located on the riverfront in downtown Davenport at 225 West Second Street. Hours are from 10 a.m. to 5 p.m., Tuesday through Saturday and Sundays noon to 5 p.m. Thursdays the museum is open until 9 p.m. Admission to the museum and tour is normally $7, but will be free June 12–September 25, 2016 thanks to The Bechtel Trusts and John Deere Classic. Admission is always free to Figge members and institutional members, and free to all on Thursday evenings from 5 p.m. to 9 p.m. The Figge Café is open 11 a.m.-2 p.m. Tuesday-Friday. To contact the museum, please call 563.326.7804, or visit www.figgeartmuseum.org.