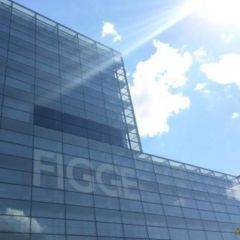 PRESS
Yuriko Yamaguchi: Interconnected in Art, Nature, Science and Technology
January 21, 2015
---
(January 21, 2015) – Starting Saturday, the Figge Art Museum will present the work of artist Yuriko Yamaguchi in the exhibition titled: Yuriko Yamaguchi: Interconnected in Art, Nature, Science and Technology.

A native of Japan and longtime resident of Washington D.C., Yamaguchi creates organic, web-like sculptures from nets of wire and resin forms cast from dried curls of potatoes, onion ends, leaves and seed pods found in nature. She scours the neighboring woods and local grocery stores in search of these aesthetically pleasing forms that she dries and cuts up until they bear only a passing resemblance to their former selves. She then creates a silicon rubber mold from the material she collects and mixes liquid resin with color dye, which she then pours into the mold.

Biological in origin but no longer natural, the resin pieces that she produces embody the delicate balance that exists between various dualities: the familiar vs. the unfamiliar, synthetic vs. natural, realism vs. abstraction, death and decay vs. life and rejuvenation. Through her art, she seeks to explore the constantly fluctuating but ever-present "interconnections" that bind us to one another and to the natural world.

According to Yamaguchi, "I [create] works that remind people that we are all connected in many overlapping webs woven out of the common forces that affect the human condition: family origin, economic stressors, religious beliefs, nature, time, place and technology. After all, we are only human beings who were born and will die, only to be replaced by others in the community of man."

Yamaguchi takes on a holistic world view that sees all existence as intrinsically interrelated. Social concerns, politics, technology, ecological issues and other aspects of our reality must not be understood in isolation, but within a broader context and her work resists definitive interpretations.

Yamaguchi currently teaches sculpture at George Washington University. She has exhibited her work both nationally and internationally, including the Corcoran Gallery of Art in Washington, D.C., the Field Museum in Chicago, Museum of Fine Arts in Houston, the Ise Contemporary Art Museum in Japan and many others. Her artwork also is included in major museum collections both in the U.S. and abroad.

This exhibition will be on view January 24-May 31, 2015 and an exhibition catalogue will be available in the Museum Store.

This project is made possible by a grant to EICCD from the U.S. Institute of Museum & Library Services.

Companion Programming:
Opening Reception & Artist Talk
Friday, January 23, 2015
5:30 p.m. Opening Reception
7 p.m. Yuriko Yamaguchi Talk
Mingle with artist Yuriko Yamaguchi and fellow Figge members at the opening reception. Yamaguchi will speak at 7 p.m. and provide insight into her artistic process.

Artist Talks
7 p.m. Thursday, May 7
Area artists will reflect on the work of Yuriko Yamguchi

Weekend Tours
1:30 p.m. February 1, 7, 15, 28

About the Figge Art Museum
The Figge Art Museum is located on the riverfront in downtown Davenport at 225 West Second Street. Hours are from 10 a.m. to 5 p.m., Tuesday through Saturday and Sundays 12-5 p.m. Thursdays the museum is open until 9 p.m. Admission to the museum and tour is $7. Admission is free to Figge members and institutional members and free to all on Thursday evenings from 5 p.m. – 9 p.m. To contact the museum, please call 563.326.7804, or visit www.figgeartmuseum.org.