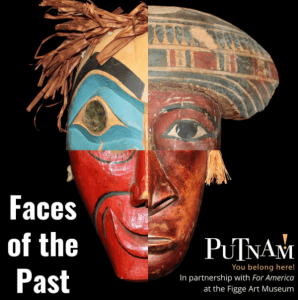 EVENT
Curator Talk: Christina Kastell
April 15, 2021 | 6:30pm - 7:30pm
LOCATION: Virtual
Join the Putnam Museum and Science Center's Curator of History and Anthropology Christina Kastell for as she introduces the exhibition Faces of the Past, offered in conjunction with For America: 200 Years of Painting from the National Academy of Design. Faces of the Past is an original Putnam exhibit that explores portraiture around the world and across time as a reflection of self-identity, popular culture, mythology, and ritual.
Throughout the world, people see themselves in different ways. Cultures demonstrate how they view themselves through artwork. Whether depicted solely with human features, a blend of human and animal characteristics or something completely supernatural, the masks, wood carvings and pottery in the exhibit characterize a great deal about the cultures that made them. Putnam visitors can expect to see faces representing 20 countries and 35 cultures including a Pre-Columbian face jug, Japanese Noh and Kyogen theater masks, dance masks from Africa and more.
Registrants will receive a Zoom link two hours prior to the program.
Free admission and programs for Thursdays at the Figge sponsored by Chris and Mary Rayburn
ART & MORE