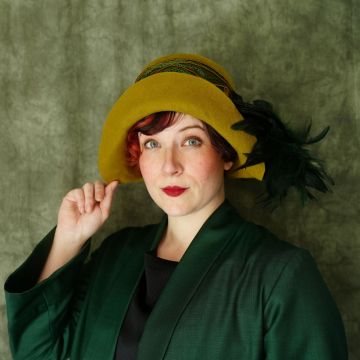 EVENT
Historian Talk: Fashion History with Dress Historian Nicole Rudolph (Virtual) - Part One
April 2, 2023 | 6:00pm - 7:30pm
LOCATION: https://us02web.zoom.us/j/89598892037
This is a virtual event that will happen on Zoom April 2 (part one) and 16 (part two) at 6:00 p.m. CST. It's free to watch and people can join with this zoom link: https://us02web.zoom.us/j/89598892037
Dress Historian Nicole Rudolph will present a two part overview of the seismic shifts that transformed women's clothing between 1800 and 1960, with an emphasis on developments in women's athletic wear. In her presentation Rudolph will focus on existing garments and what they can tell us about the social and political changes that were taking place during this dynamic period in history.
Nicole Rudolph is a full-time fashion history content creator on YouTube, where she focuses on bringing her expertise in historic shoemaking, sewing, and tailoring to a broad, international audience. She has a MFA in Material Culture from University of Nebraska-Lincoln and a BFA in Costume Design from Ball State University in Muncie, Indiana. Before her career on YouTube took off, she worked for several years at the Colonial Williamsburg Foundation and as the Artistic Director & Designer of American Duchess Shoes. During this time, she has also had the opportunity to work with institutions, such as the Museum of the American Revolution, to reconstruct historic garments and textile goods for exhibits and experiments that provide insight to how these objects would have been made, used, and worn out.
This event is part one of a two-part event but you don't have to attend both events to understand and enjoy!
ART & MORE