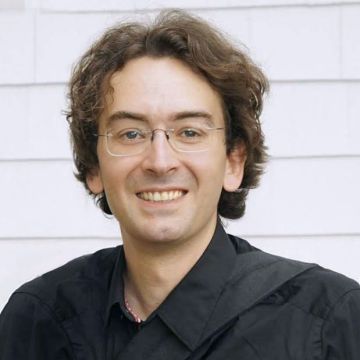 EVENT
Magnetic West Virtual Artist Talk
July 2, 2020 | 6:30pm - 8:00pm
LOCATION: Figge Art Museum
Join artist John Sanderson for a program featuring his artwork Cattle Drive, Carbon County, Wyoming, on display in the Figge Art Museum's exhibition, Magnetic West: The Enduring Allure of the American West. Sanderson will speak about this artwork and set it into the larger context of his photographic series Carbon County. Following the presentation, Figge Director of Collections and Exhibitions Andrew Wallace, who curated Magnetic West, will join Sanderson in conversation about the exhibition.

This program is free but advanced registration is required. After registering, you will receive a link to join the program on the scheduled date and time.
Artist Bio:
John Sanderson is drawn to broad topographical subjects within the United States of America. It is there in the outdoors he feels most creative. His photographs reconcile American motives of impermanence, and expansion within the contemporary landscape. His projects include themes such as transportation, leisure, residence, industry, and decay. The influence of growing up in New York City's Midtown Manhattan underpins much of Sanderson's work which is rooted in a passion for architectural design. He captures photographs for each project with multiple large format film cameras as well as smaller digital cameras as needed for commercial clients. Sanderson's photographs have been featured in a variety of publications such as: PDN Magazine, Slate Magazine, BBC News, The Wall Street Journal, Lenscratch, and NBC News. Fallen Flags, and Railroad Landscapes have both been the subject of several solo and group exhibitions. In 2017, he published National Character, a Monthly Monograph Magazine, by Subjectively, Objective. His work resides in a number of private and public collections including at the International Center of Photography Library, Amon Carter Museum of American Art Library, MTA, New York Transit Museum, NTR Partners, and the Center for Railroad Photography & Art. Zatara Press published his Carbon County project in 2019.
To learn more about art John Sanderson, please visit his official website at www.john-sanderson.com.
ART & MORE