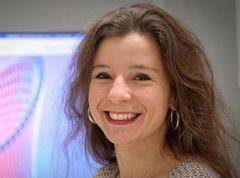 EVENT
Virtual Curator Talk: Monica Correia
October 8, 2020 | 6:30pm - 7:30pm
LOCATION: Virtual
Monica Correia will introduce the newly opened exhibition Seating by Design and discuss how the exhibition took shape. This online program is free but advanced registration is required.

After registering you will receive an e-mail two hours before the program begins, which will include a Zoom link to join the program at the scheduled time that evening.
Free admission and programs for Thursdays at the Figge sponsored by: Chris and Mary Rayburn
Monica Correia received her "Cum Laude" Bachelor of Architecture degree from the Federal University of Rio de Janeiro, Brazil, and her MFA degree in 3D Design from the University of Iowa. She has exhibited at several art and design venues around the world and her work as Associate Professor and head of the 3D Design program at the University of Iowa School of Art & Art History was awarded the prestigious "ICFF Editor's Award for Best School" in New York City in 2015. Furthermore, she received with her students the distinguished "SOFA CONNECT" award for best design environment in Chicago in 2014, 2015 and 2019. Before moving to the US, she taught at the Federal University of Rio de Janeiro School of Architecture and designed interiors for stores and shopping malls in Brazil and Portugal.
ART & MORE